Sewer Line Replacement in Bergen County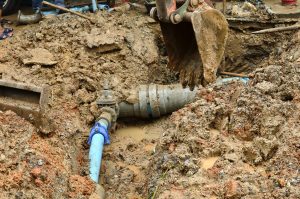 When you need a new sewer line, call BZ Dependable right away. You can stop searching for "sewer line replacement near me" because we'll get to you fast. Once we're there, we'll diagnose the problem and get your new sewer line in place ASAP.
Sewer line replacement in Bergen County can be an intimidating prospect, but you don't have to worry when we're on the job. Our sewer line plumbers in Bergen County have done all sorts of sewer line replacements so they can handle yours and get the job done fast. Call today to get help soon!
When Do I Need a New Sewer Line?
Only a qualified sewer line plumber in Bergen County can tell for sure if you need a new sewer line. However, the following signs are good indicators that it's time to check out your line and see if it needs to be replaced.
You have overgrown spots in your yard. These can occur when there's a broken sewer line because plants thrive on some of the chemicals in sewage.
You have a persistent mold and/or mildew problems. These thrive in damp places. If your sewer is leaking, it gives them the moisture they need to continue growing.
You have sinkholes in your yard. If sewage is seeping into the soil under your yard, it can cause that soil to compress and whatever is on top of it sinks. The only way to eliminate the problem is to fix the broken sewer line.
If reading this list causes you to feel concerned about your sewer line, call us today!
Get Your Sewer Line Replacement from BZ Dependable
When you call us about sewer line replacement in Bergen County, we'll come to you quickly and assess your line right away. Depending on what we find, we may recommend that you replace all or part of your sewer line. Whenever we can, we'll do your sewer replacement using trenchless techniques. These allow us to access your sewer via the hatch in your yard or your basement and repair your sewer from there.
Sewer Line Replacement Service in Bergen County, NJ
Neglecting routine maintenance for your plumbing system can lead to clogged drains and sewer lines. When debris get trapped in your sewer lines, your drainage system is less effective and can eventually lead to the need for costly repairs. Yearly check—ups provide an opportunity for our plumbers to inspect your pipes and fixtures, but we can also clean out your lines and drains to prevent backups and water damage.
Older sewer lines or lines installed near trees are more susceptible to corrosion or irreparable damage from root penetration. Replacing a sewer line can be a disruptive process if you don't hire an experienced plumbing technician who is equipped to properly install the line. At BZ Dependable Plumbing & Heating Inc.., we use the most effective tools available to efficiently replace your sewer lines and minimize disruptions to your home. We also offer water jetting services to clean your drains and remove the buildup that causes clogs and damage to your pipes. Our qualified plumbers can provide any sewage and drainage needs for your Bergen Countyk, NJ area home. Call today to set up an appointment.
Main Sewer Line Replacement Services in Bergen County, NJ
When you call our expert plumbers, you know that we will have the tools and experience it takes to effectively and efficiently replace your sewer lines. We use video scans to investigate any issues, such as slow drains, and make recommendations based on our experience and knowledge. If you need a sewer line replaced, we also use the most advanced technology and methods to replace the line without damage to your property. We also always make sure to minimize disruption to your living space whenever we make repairs or replacements. In addition to sewer line replacement, we offer routine maintenance and emergency repair services. You can trust our qualified plumbing technicians to take care of any of your sewage and drainage needs.
Professional Video Sewer Line Inspections
A video pipe inspection can be used to check for any water leaks, blockages, or places where root penetration has damaged the sewage and drainage lines. If you own an older home, your sewage drain pipes are most likely made of cast iron. These pipes are known to corrode over time or cause more clogs because materials can get snagged on the rough interior surface of the pipes. Video camera inspections are ideal for inspecting the overall integrity of older plumbing systems, and they can pinpoint any old joints that have shifted over time. Video inspections are often used to locate issues when other techniques have not been successful at cleaning debris from a pipe or sewer line. Call today if you have questions or would like to schedule an appointment.
BZ Dependable Plumbing & Heating Inc., the Bergen County Drain & Sewer Service Professionals
The experts at BZ Dependable Plumbing & Heating Inc. provide sewer line replacement services for customers in the Bergen County area, including Westwood and Teaneck. Our skilled technicians have the experience to fix of any drainage and sewage issues with your plumbing system. Call us any time to set up an appointment.