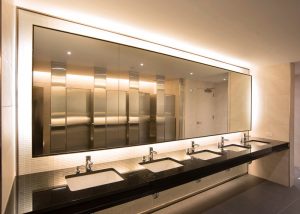 Some plumbing problems around the home are things you can repair yourself with the turn of a screwdriver or a small drain auger. But when it comes to a commercial property, things aren't so simple. It's ill-advised to attempt fixing a problem that could impact an entire building without feeling certain of the outcome. Even an experienced handyman is not the best choice for commercial plumbing repair or installation, since their expertise does not lay in that one area.
If you have a commercial property in the Westwood, NJ area, make us your first choice for plumbing services. But no matter where you live, we've got some guidance on how to find the right commercial plumbing company for all your needs.
#1: FLAT RATE PRICING
First, look for a company that offers flat-rate pricing. That means that the price is fixed for the job, with an estimate you receive ahead of time after an inspection, and it won't vary based on the time spent on the work.
Experienced plumbers know how long a job will take and what tools and parts will be required for the work, and they charge accordingly. Getting the total price all at once, rather than the hourly rate, gives you the best idea of what you'll pay in the end.
Unfortunately, we've heard of too many companies overcharging on services by giving an hourly rate. They may claim the job can't get done in a single day and return the following day, or they may delay the job by bringing too few people or supplies. This method of charging is highly unethical, and while it may not be true of all hourly companies, it's still best to get an upfront price from plumbers who will do the job in a timely manner.
#2: A VARIETY OF SERVICES
Next, we think it's important to look for a plumber who offers a wide range of services—even if you only need them for one specific task right now. So you're just looking for someone to replace a few toilets—but eventually you're likely to need drain and sewer cleaning.
Wouldn't it be best to form a relationship with a company that knows your business, just as you know how reliable they are? Look for a company that offers all the things you may need in the future! And if you like the team, stick with it.
#3: EXPERIENCE
We have to repeat the importance of finding a company experienced in commercial plumbing specifically. The tools needed to inspect, repair, and replace commercial plumbing parts are different than some of the tools required for residential plumbing, and these are things the specialists will have already on hand.
What matters more than the tools is knowing this is a company that trains employees on how to work with commercial properties—how to stay out of the way of daily operations, to keep managers informed, and to follow the proper codes.
Get commercial plumbing in Westwood, NJ from the dependable team at BZ Dependable Plumbing & Heating Inc. Contact us today for exceptional customer service!