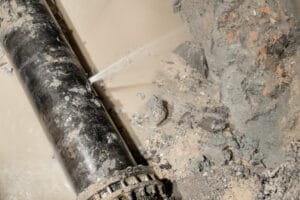 Plumbing has advanced a great deal since the old days of lead pipes and well water, but some things don't change, and unfortunately, leaks are one of them. The big problem with leaks is that they can often go unnoticed for weeks or even months, especially if they take place in the crawlspace between your walls or similar out of the way locations. The faster you can spot a leak, the better.
Plumbing leaks are a significant problem, and no one wants to wake up to find water all over their kitchen floor. But the worst leaks are those that escape detection: breaching behind your walls or underground somewhere where you can't actively spot it. Here in Bergen County, NJ, spring and summer are the ideal time to address such issues, when the weather is warm and the ground between you and the broken pipe isn't frozen solid. But before you treat the leak, you need to learn to notice it and call for professional leak detection in Teaneck. Here are 3+ ways to spot a plumbing leak that you should watch for:
1. CHECK THE METER OR YOUR BILLS
If your bill suddenly goes up and you haven't used any more water than normal, that most likely means you have a leak. You can also turn off all of your water and check your meter, then check it again anywhere from 30 minutes to a few hours later without running any water in the interim. If the meter has moved, you probably have a leak.
2. SOUNDS OF RUNNING OR DRIPPING WATER
Dripping or running sounds coming from you walls probably means you have a serious leak. Leaks don't always make noises, and some can be quite small, but if you hear the sound of leaking water and/or drips coming from an unusual location, you can bet there's likely a leak.
Turn off the water to your home. If the sounds stop, then leave the water off and call a plumber immediately. Otherwise, the water could damage your dry wall, or even short out electrical components in the walls, resulting in higher bills and bigger headaches for you.
3. PUDDLES & LOW WATER PRESSURE
Puddles inside are usually an instant sign of plumbing troubles. But for underground leaks, puddles may form on your lawn or yard in places you didn't expect. Make sure the issue isn't with your sprinkler system, or something similar before contacting a professional.
4. LOW WATER PRESSURE
Low water pressure can also indicate a leak. Leaks will affect the pressure of the water, and if you spot a faucet or other outlet where the water doesn't flow the way you're used to, you may have found a leak.
If you spot a plumbing leak in your home, then the professionals at BZ Dependable Plumbing & Heating are here to help with professional plumbing repair services. Give us a call today to set up an appointment!