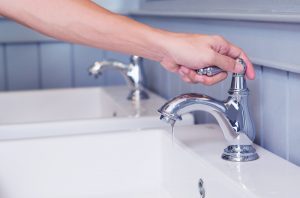 Today, most municipal water supplies, ours included, go through a heavy level of filtration and conditioning before they get to your faucets. And if you're using ground water—that is, a private well—you probably have your own water treatment system on site. However, what many homeowners don't realize is missing from their plumbing systems is protection from hard water.
What is hard water, you ask? This is the name given to water with a high concentration of the minerals calcium and magnesium in it. They're harmless to ingest, however can do a world of damage to your plumbing system. This problem can adequately be handled with a water softener as the water enters the home, before it has a chance to put your pipes out of commission. Without a water softener, professionally installed by an experienced plumber in Englewood, NJ, you could find yourself facing the following issues and their consequences. Keep reading to learn more!
SOAP SCUM COATING THE BATH
This doesn't mean you're not good at keeping things clean! Soap scum can build up faster in your bathtub and other areas when you have hard water present. This is because the minerals prevent soap from dissolving easily. This is just a symptom of a larger problem though.
WATER SPOTS APPEARING ON GLASSES
We're talking about after you wash your glassware. The water spots are harmless, but they are a sign that your dishwasher is slowing accumulating damage from the same hard water molecules that can jam your pipes and cost homeowners thousands of dollars in plumbing repairs.
WHITE OR YELLOW RESIDUE BUILT UP ON FAUCETS AND DRAINS
This is a sign of a potential plumbing catastrophe. That same type of buildup you see outside of the faucet is happening within it, too, and in your pipes. Slowly, the mineral deposits continue building up and restrict the volume inside of the pipes. Eventually, you'll probably need to replace your faucet and your water pipes—far sooner than you expected to.
DULL HAIR AFTER A SHOWER
No, we aren't just talking about vanity issue. This shouldn't be ignored, as it is absolutely one of the signs of hard water. Hard water dilutes your shampoo and conditioner, causing this reaction.
YOUR SHOWERHEADS CLOG UP QUICKLY
Over time, the mineral buildup from hard water can restrict water from flowing through your pipes. In less time than that, the minerals can keep water from flowing through your shower head of faucet, clogging the showerhead or the aerator of your sink and slowing the water pressure.
To temporarily relieve this, you can typically unscrew the end of the faucet and clean out the aerator—same goes for your showerhead. But remember, this is the sign of a bigger problem, and that's something only a water softener can really manage.
YOUR CLOTHES DON'T SEEM CLEAN AFTER LAUNDRY DAY
The same way that soap scum builds up in your bathtub, it can fail to dissolve completely in your washing machine, which can prevent clothes from rinsing off, or it can make your clothes stiff after they come out of the dryer.
Contact BZ Dependable Plumbing & Heating today for exceptional customer service!