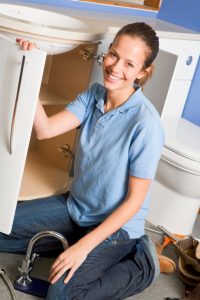 Are you a do-it-yourselfer who loves the idea of doing your entire kitchen or bathroom remodel by yourself (or with the help of a few friends)? We think it's great to have that feeling of accomplishment after you've sanded, sawed, spackled, and painted a part of your home with little help. What's not so great is the feeling of uncertainty after you've installed an important plumbing component without much experience.
Look, we're all for DIY work when it comes to some things. But when remodeling involves any change to the plumbing, you're going to need a professional plumber on the job. Unfortunately, we've seen a lot that can go wrong without it.
YOU MAY NOT GET THE HOME UP TO CODE
Local plumbers are just about guaranteed to have a pretty good grasp on local building codes. And getting your home up to code is important. When attempting a remodel on your own, you might end up with too little space between fixtures or inaccurate pipe slopes and other problems.
And that can really hurt you in the long run. When it comes time to sell your home, you might have a lot of trouble if an inspection reveals code violations. Besides, building codes are there for a reason! If you're in violation, it may be due to improper drainage or a similar issue, and you'll notice the repercussions.
IT'S PROBABLY MORE TROUBLE THAN IT'S WORTH
Look, in all honesty, do-it-yourself plumbing is probably more trouble than it is worth. There's always the risk that something could go wrong.
Improper sealing could lead to leaks.
The wrong slope could mean improper drainage, frequent clogs, and possible backup.
You might experience reduced water pressure due to improper pipe installation.
And in this case, you'll have to pay even more to fix the problem. To be honest, our plumbers end up fixing a lot of DIY mistakes. Is it really worth it?
PLUMBERS HAVE THE RIGHT MATERIALS
Why spend money on materials for a remodel when plumbers already have the right tools for the job? Sure, you'll have to pay for any new fixtures or piping used, but at least you won't have to pay for new plumbing tools that you'll only use once! A good plumber keeps a fully-stocked truck and can finish installation of new plumbing components quickly.
YOU STILL HAVE THE FINAL SAY
Here's the thing: hiring a plumber to help you out doesn't mean you suddenly lose control of the project. A plumber can help you figure out which fixtures are the right fit for your bathroom or kitchen and whether or not something is up to code, but beyond that, you're still in control of the project.
Hiring a plumbing contractor does not mean settling for less or missing out on a DIY opportunity. It means that you care enough about your home to make sure its plumbing components are in the right hands.
Hire a qualified plumber in Westwood, NJ for your next bathroom or kitchen plumbing remodeling job. Contact BZ Dependable Plumbing & Heating Inc. today.