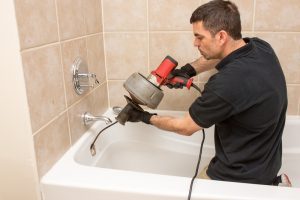 Imagine this scenario: You to go to use your kitchen sink and, it's clogged. You try running the garbage disposal, thinking maybe something is stuck at the surface. The garbage disposal works, but the water isn't draining out. This means you have a clog. You try using a plunger to relieve it, but to no avail.
You might imagine that the next best course of action is to grab that bottle of store-bought chemical drain cleaner you purchased the last time this happened. We really urge you not to though. Rather, give us at BZ Dependable a call for professional drain cleaning in Bergen County.
Chemical Drain Cleaners Cut Through Some Clogs
Alright, so chemical drain cleaners are "good" for some clogs. Most are good at dissolving hair, which is a common problem in bathtub and shower drains. This doesn't mean they're good for your pipes, though!
And if you have items like grease and grime, food particles, or any other blockages aside from hair clogging up your pipes, then chemical drain cleaners are going to be ineffective, anyway.
These chemicals are highly acidic and toxic. They will eat away at the insides of drainpipes, leave behind toxic fumes, and burn skin and eyes. Plus, toxic residue left in the bottles gets into landfills and can cause environmental damage. No professional plumber recommends using these products: they've seen the negative results too many times.
You Might Make The Problem Worse
This would be unintentional, of course. But some of the particles that chemical drain cleaners cannot dissolve often get pushed further down your drain pipe, leading to deeper clogs than you started out with and requiring professional tools and equipment to remove, anyway.
Professional plumbers have high-end equipment like hydro-jetters and motorized drain augers that are too expensive for commercial use and too complicated for anyone without proper training to handle. Hydro-jetting does a thorough job of blasting away grease, fat, and other deposits from the interior of drain pipes while not causing any damage to the pipes themselves. Plumbers also have access to cleaning agents like BioSmart that leave no toxic residue behind.
Additionally, plumbers must know what sort of cleaning needs to be done and where it needs to be done. Thanks to video inspection equipment (miniaturized cameras mounted on thin fiber-optic cables), plumbers can examine drains from the inside and identify the work they need to do without disruptive methods to reach the pipes.
You Can Suffer From The Side Effects
Yes, these store bought drain cleaners have side effects. For instance, they can be harmful to people and pets due to how toxic the chemicals are in them. Rubbing your eye after not fulling washing your hands, or having a pet accidentally getting into some that's dripped on the floor can lead to a very dangerous situation.
Plus, these chemicals are caustic. That means that prolonged use of these drain cleaners (which, since they're ineffective at removing the clog permanently, you'll undoubtedly experience) eats away at the lining of your drain pipes, leading to premature replacement of your plumbing.
"So, I Can't Clean My Drains On My Own?"
We aren't exactly saying that. If your drain isn't clogged but has a funky smell to it, there are certainly steps you can take.
DIY Drain Cleaning
Baking soda and vinegar: Start by getting rid of the standing water in your drain. If it will go down slowly, just wait until it's gone. If it isn't moving, use a cup or a spoon to get it out of there. Then, put 1 cup of baking soda and 1 cup of vinegar down the drain and let it sit there for 30 minutes. When the time is up, run warm water down the drain and see if the clog is gone.
Try a plunger: Make sure the plunger forms a tight seal over the opening of the drain, then start plunging. You may need to work for several minutes before you see much of a difference. Don't give up unless you have plunged for 5 minutes or more without a discernible change.
Plumbing snakes: Make sure you get a snake that is the right size for your drain and that you never put it more than 3-4 feet into the drain. Otherwise, it can get stuck down there and cause even more plumbing problems! Thread the drain until you hit a blockage. Wind the snake back up to try to remove the clog or use the snake to break it up.
When Home Remedies Don't Cut It
But if your drain is stubbornly clogged and nothing you try helps, then it's time to call for professional drain cleaning. Our pros will use a method like drain snaking, or hydro-jetting for harder clogs. Either or both of these can be extremely effective at not only removing the clog, but making it less likely for blockages to develop in the future.
You may have seen us mention hydro-jetting on our blog before. It utilizes a high-pressured hose with an omnidirectional sprayer for optimal coverage within your drain pipe. Professional drain augers are especially helpful for blockages deep within the sewer line.