Boiler Repair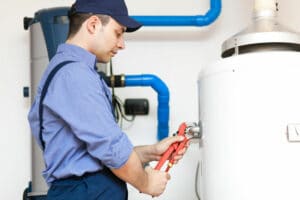 When you need boiler repair in Bergen County, rely on the expertise of the skilled boiler techs at BZ Dependable. Just call us and say, "Please fix my boiler!" and we'll send someone out soon. When your boiler is not working, you don't have time to mess around. You need someone to fix it fast. We promise that we'll get there as soon as we can to get your boiler back online ASAP.
Do I Need Boiler Repair?
If your boiler isn't turning on at all and you don't have any heat, it's usually clear that you need to call in some professional help for boiler repair in Teaneck. However, your boiler can give signs that it needs help before it dies completely. Look for the things listed below. Call us if you see them and we'll send out someone from our boiler repair service fast, to fix it before it dies on you.
Your boiler is making unusual sounds.
You smell a foul smell, especially near your boiler.
Your heating bill keeps going up even though you aren't using your boiler any more than usual.
Your boiler is leaking.
You don't have enough hot water or it won't get hot enough for you.
You are cold at home even though your boiler seems to be working just fine.
Our Boiler Repair Process
As soon as you call and say, "Please fix my boiler!" we'll be on the job. We'll connect you with a boiler expert who will be at your home soon. You'll get a chance to explain exactly how your boiler is not working, which gives our technician some ideas about what to look for when they examine the boiler itself. This examination will happen next, and your tech will keep at it until he or she knows exactly what has gone wrong and why you don't have heat.
Once we know where the problem lies, we'll be able to devise a solution and get started on your boiler repair in Bergen County. We'll keep working until your boiler is fully repaired. We'll test everything we install or any changes we make to your boiler before we leave. We invite you to test them, too, just to make sure the boiler is working the way you would expect it to. When we know all is well, we'll get out of your way ASAP.
Call in boiler professionals from BZ Dependable whenever you need boiler repair in Teaneck or Bergen County. We pride ourselves on the reliability and accuracy of our boiler repair service, and we want you to know that you can trust us with any and all boiler repair needs that you might have.
Contact us today to find out just how easy it can be to get the boiler repair you need so you and your family can stay warm this winter. We'll work with you to get your boiler repaired as soon as possible and we'll never leave you out in the cold. Make your appointment today!