Allendale Plumbing & HVAC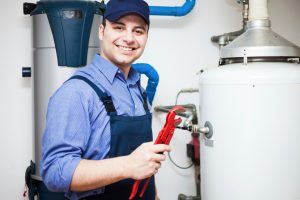 When you need an HVAC technician or a plumber in Allendale, call us at BZ Dependable. We are here for you when you need us so you can stop stressing, get your problems solved, and get back to living life in a way that you love. No matter what you need when it comes to plumbing and HVAC in Allendale, we'll get things back to normal fast.
We believe that doing amazing technical work is only one part of our job. In fact, we also want to give you a better customer service experience than you've had with a home services company before. From your very first contact with our scheduling staff to the moment your HVAC tech or plumber in Allendale leaves, we want to show you just how easy it can be to keep your home running well.
Residential and Commercial Plumber in Allendale
Whether your plumbing issue is at home or at work, we'll get things taken care of quickly. There's no plumbing task too big or too small for our team of skilled plumbing experts. Make your appointment today and find out just how fast we can get the job done. We'll never skimp on quality, though. In fact, we will stay until you are satisfied with the work we've done for you. From clogged toilets to broken pipes, we'll get your repair done fast. We do installations and remodels, too – just ask when you call!
Drain Cleaning in Allendale
Clogged drains can derail your entire life! Whether you have one small clog or a large clog in your sewer, we'll get your drain cleaning in Allendale completed just as soon as we can. Whether we need to use a plumbing snake or take on a trenchless sewer repair, we'll have your waste and water flowing properly again fast. Trust our experts with even the most complex drain cleaning in Allendale. You won't be disappointed!
Home Heating in Allendale
When it comes to home heating in Allendale, our experienced HVAC technicians can get yours running, help you maintain it, or keep it running for you whenever you need it. We'll do repairs, tune-ups, and installations or replacements.
When it comes to home heating repairs, we'll do everything it takes to keep you warm in Allendale all winter long. No matter what has gone wrong with your heating, our techs have the experience and know-how to diagnose it and fix it for you. We'll work as fast as we can and communicate with you so you can know when your heat will turn back on.
If you need a new heater, we'll help you choose one that will be perfect for you and your family. We'll just ask a few questions, then give you options from some of the top manufacturers in the business. Pretty soon, you'll be warm at home again.
Call BZ Dependable to make your appointment for plumbing or home heating in Allendale. Stop worrying and take the first step toward making your home a haven!