Bergen County Plumbers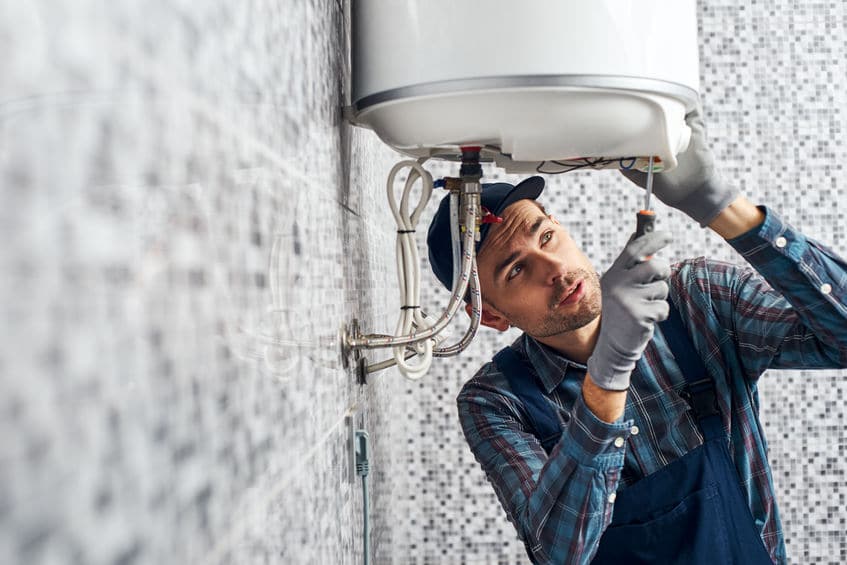 Do you need help with your plumbing or heating in Bergen County? Call your trusted local plumbing company, BZ Dependable Plumbing & Heating, we have highly trained and skilled Bergen County plumbers standing by. They are always ready to help you out so you don't have to worry anymore. Start the process now by calling us and getting on the schedule with one of our experts. We'll make sure your plumbing repair or installation gets done to your satisfaction before we leave.
We know that needing home repairs can be stressful. Many homeowners tell us that they worry about the cost and the hassle of getting these repairs done. At BZ Dependable, we aim to make the process as easy as possible for you so you can take a deep breath and then get back to your normal routine.
Drain Cleaning from Bergen County Plumbers
When you have clogged drains, it can be hard to live well at home. After all, when you can't use water, you can't clean things, cook, or bathe properly. Call us at BZ Dependable whenever you need drain cleaning in Bergen County. We'll get things cleaned out, whether it's a simple fix with a plumbing snake or a more complex sewer repair. Pretty soon, everything will be flowing normally again.
Bergen County Heating
We live in the area as well as working here, so we know how cold it gets! When you need help with your home heating in Bergen County, our heating technicians will get to you fast and get things repaired so you don't have to worry anymore.
Whether‌ ‌your‌ ‌system ‌can‌ ‌be‌ ‌fixed‌ ‌or‌ ‌it's‌ ‌time‌ ‌to‌ ‌buy‌ ‌a‌ ‌new‌ ‌one,‌ ‌your‌ ‌BZ Dependable heating technicians‌ ‌will‌ ‌tell‌ ‌you‌ ‌the‌ ‌truth.‌ ‌If‌ ‌it's‌ ‌going‌ ‌to‌ ‌be‌ ‌less‌ ‌expensive‌ ‌to‌ ‌get‌ ‌a‌ ‌new‌ ‌furnace,‌ ‌we'll‌ ‌help‌ ‌you‌ ‌select‌ one‌ ‌that‌ ‌is‌ ‌suitable‌ ‌for‌ ‌you,‌ ‌given‌ ‌the‌ ‌size‌ ‌of‌ ‌your‌ ‌home,‌ ‌your‌ ‌desired‌ ‌energy‌ ‌efficiency‌ ‌rating,‌ ‌and‌ ‌your‌ ‌budget.‌ ‌From furnace installation to boiler repair in Bergen County, we've got you covered.
We'll‌ ‌oversee‌ ‌any‌ ‌ordering‌ ‌that‌ ‌needs‌ ‌to‌ ‌happen,‌ ‌whether‌ ‌it‌ ‌is‌ ‌parts‌, ‌a‌ ‌new‌ ‌unit, or Bergen County heater repair.‌ ‌Once‌ ‌everything‌ ‌is‌ ‌in,‌ ‌our‌ ‌techs‌ ‌won't‌ ‌leave‌ ‌until‌ ‌you‌ ‌are‌ ‌satisfied‌ ‌with‌ ‌the‌ ‌way‌ ‌things‌ ‌are‌ ‌working.‌ ‌Before‌ ‌we‌ ‌go,‌ ‌we'll‌ ‌be‌ ‌sure‌ ‌to‌ ‌answer‌ ‌any‌ ‌questions‌ ‌you‌ ‌might‌ ‌have,‌ ‌too.‌
Additionally, ask our team about oil to gas conversion in Bergen County, NJ!
Commercial Plumbing & Heating in Bergen County
Whether you need commercial plumbing repair or furnace installation done at your property in Bergen County, the experts at BZ Dependable will be there for you. Call to speak to one of our friendly schedulers today. Pretty soon, you'll be meeting with an experienced technician who can get your business or property running well again fast. Don't stress anymore! Make your appointment as soon as possible.
Call A Bergen County Plumber
Our expert Bergen County plumbers are trained to handle most every situation and will guide you through the process so there are never any surprises. We offer a wide range of plumbing services like trenchless pipe repairs and hot water heater maintenance, as well as repair, installation and maintenance on any heating system you may have, we even do oil to gas conversions! Contact us at BZ Dependable today or whenever you need help with plumbing or heating services in Bergen County, NJ.