Main Water Line Repair & Replacement Service in Englewood, NJ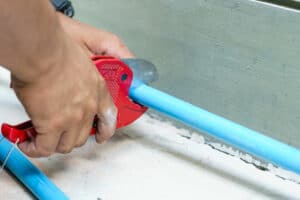 Are you concerned about the water that comes into your home? Do you think you might have a leak or another problem with your water line? When you need main water line repair and replacement Service in Englewood, NJ, give us a call at BZ Dependable. We'll have an experienced plumber in Englewood at your door ASAP to help you get the help you need as soon as possible.
Water Line Repair in Englewood, NJ
Not sure if the problem is with your main water line? The following issues can indicate that it's time to call for water line repair in Englewood, NJ. Look for:
Overly wet or muddy spots in your yard or your lawn.
Signs of corrosion that you can see, like mineral deposits or rust on your pipes.
Water that looks wrong. It can be a different color, like red or brown, or it can be cloudy.
Lower-than-normal water pressure in your home or at your outdoor taps.
Significant increases to your water bill, especially when they come without another explanation.
Our plumbers in Englewood consider every water line repair an emergency and we'll help you get access to clean water once again.
Water Line Replacement in Englewood, NJ
If your line is broken or cracked or you have old pipes that are wearing out, we'll get your water line replacement in Englewood, NJ completed ASAP. Your plumber from BZ Dependable will walk you through the process, then handle it step by step. You'll know exactly what to expect and how long things should take so you can plan accordingly for you and your family.
Water Line Installation in Englewood, NJ
If you're looking for a new water line, contact us about water line installation in Englewood, NJ. We'll evaluate your needs, then let you know the best way to get your water lines where you need them. Our plumbers in Englewood will install them and test them, too, so you can be absolutely sure that you have the clear water you need.
Contact BZ Dependable today for all of your questions or concerns about main water line repair and replacement, or any of our plumbing services in Englewood, NJ. Our Bergen County plumbers will get you the solutions you need quickly and efficiently!