Call Us When You Need a Plumber or HVAC Specialist in Wyckoff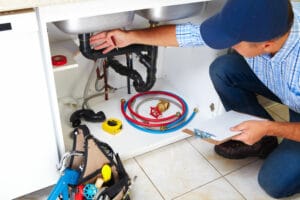 Are you tired of dealing with plumbing or HVAC problems on your own? Do you need a plumber in Wyckoff or an HVAC specialist to help you out? At BZ Dependable, we know that problems with your house can be stressful. We understand that you need someone who will not only fix them for you but who will take your stress away during the process. We promise that we will make every repair as easy for you as it can possibly be.
Plumbing Repair
We see every plumbing repair in Wyckoff as a chance to show you exactly why so many people in the area call us whenever they need plumbing help. We'll work hard to make sure you feel like we care about you during the process, even as we are applying our years of expertise and our immense skill to getting your repair done fast. No matter what you need for a plumbing repair, from fixtures to water lines, we'll get the job done quickly and efficiently so you can get back to living your life.
Water Heater Repair
When you need a water heater repair in Wyckoff, call in experts from BZ Dependable. We are great at evaluating your water heater to determine whether water heater repair in Wyckoff is the best option for you. If we think that replacement might work better, we'll talk with you about all of your options and do whichever you decide would be best for you and your family. As your plumber in Wyckoff, we will stand beside you no matter what happens!
A/C and Furnace Repair
Our HVAC specialists will do any A/C or furnace repair in Old Wyckoff that you need to have done. No matter what is going on with your HVAC system, we'll get out to you fast, troubleshoot the problem until we know exactly what is wrong, then design a solution that will work for you and your circumstances. Before long, your A/C or furnace repair in Old Wyckoff will be complete and you'll be able to be comfortable at home again. We want to be the HVAC company in Old Wyckoff that you call whenever you have a problem.
As part of that, as your HVAC company in Old Wyckoff, we'll take on your A/C and furnace replacement, installation, and maintenance, too. We'll make sure you get the perfect units for your home, then do what it takes to keep them working well for you over the years to come. When BZ Dependable is on your side, you don't have to worry about keeping things working anymore because we have it all under control.
Contact us today for all of your plumbing and HVAC needs. We'll be there soon, bringing our years of expertise and all of our skill with us. Before you know it, your home will be working again and you'll be able to rest easy there. Make your appointment today!