Heating Services in Bergen County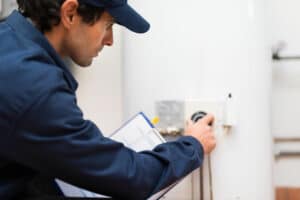 When you need help with home heating in Teaneck or Bergen County, the experienced plumbing team at BZ Dependable will be there fast. Just give us a call and we'll send out an expert who can take care of your heating for you before you get too uncomfortable at home. We'll make sure you have everything you need before we leave so you can stop freezing, stop worrying, and get back to your normal routine.
Heating Repair
We'll take care of all of your heating repair needs quickly and easily. We live in the area as well as working here, so we know that heating in Bergen County is no joke. You need it in the winter and, if you find out you don't have it or it isn't working well, you can get way too cold way too fast. That's why we'll come fix your heating in Bergen County ASAP, before you even have time to cool down.
Heating Installation
If you need a new heater, we'll help you get the perfect one for your home. We'll talk to you about how big your home is, how often you use your heater, how warm you like to keep your home, and more. Then we'll recommend new heaters that come from manufacturers we know and trust. Choose your new heater and we'll get your heating installation completed fast. We'll test it all before we leave and let you test it, too, just to make sure it's all working well.
Boiler Repair
If you use a boiler for home heating in Bergen County, then you know how hard it can be to find a boiler repair expert when you need one. At BZ Dependable, we can take care of all your boiler problems, no matter what is going on. Call us and we'll be there as soon as we can to examine your boiler and get started on your repairs. Before long, your heating in Teaneck will be back to normal!
Boiler Installation
Need a new boiler before winter comes? Call us at BZ Dependable and we'll get your boiler installation completed quickly. We'll make sure you get a boiler that fits your usage patterns and your home's needs, then install it according to the manufacturer's instructions so you can be sure it will keep you warm for years to come. Feel free to test our work before we leave. We won't be offended and we love to hear that it's just what you needed!
Heating Maintenance
Regular maintenance for your heater can keep your heating in Bergen County working well. It helps with system efficiency which costs you less in energy and helps your heater last a lot longer. We'll test everything, then make repairs to anything that isn't working the way the manufacturer designed it to. By the time we leave, you'll know for sure that your heater is in great shape for the winter.
Call us at BZ Dependable for all of your needs pertaining to home heating in Teaneck and Bergen County!
FAQ
Do you offer boiler services?
Yes, we offer boiler repair, replacement, installation and maintenance anywhere in Bergen county and the surrounding area.