Heating Services in Bergen County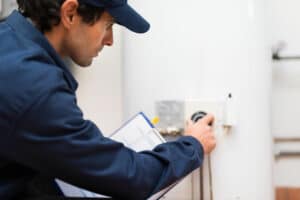 When you need a heating contractor in Bergen County, call on us at BZ Dependable Plumbing & Heating today. We'll have an expert to your door fast to help you get your heater back on ASAP. Don't try to live without the heat you need because you'll just be miserable at home! Call us instead to get yours back on fast.
We offer a complete line of options when it comes to boiler service in Bergen County. We'll get your heater back on as quickly as we can and you'll be warm again soon.
Heating Repair
Heating repairs in Bergen County are fast and easy when you work with our team from BZ Dependable Plumbing & Heating. Call us and we'll be at your door fast. Before you know it, we'll have your boiler fixed and everything will be back to normal.
When you need a heating company in Bergen County that you can rely on no matter what is wrong with your heater, contact our team. We'll show you how simple it can be to stay warm this winter!
Heating Replacement
Getting a heating replacement in Bergen County doesn't have to be hard. Our experts will get you the perfect new boiler for your home, then install it so it can work the way it was designed to work. We won't install just any boiler – instead, we'll get you one that meets your specific needs.
Heating Installation
Pick out your new heater and we'll handle your heating installation in Bergen County, too! We perform every installation according to the manufacturer's instructions, just to make sure it gets done properly. We'll test your new heater and invite you to test it, as well, so we can all be sure it's functioning properly.
Don't put off boiler service in Bergen County! Rely on our team for all of the repairs, replacements, and installations you need. Get on our schedule when you call us today.
Call us at BZ Dependable for all of your needs pertaining to home heating in Teaneck and Bergen County!
FAQ
Do you offer boiler services?
Yes, we offer boiler repair, replacement, installation and maintenance anywhere in Bergen county and the surrounding area.
Do you provide Oil to Gas conversions?
Yes we do! We can come to your home and perform oil to gas conversions in Bergen county and the surrounding areas!
Do you work on steam boilers?
We certainly do! These particular boilers can be a little tricky, that's why our service experts offer complete services on steam boilers in Bergen County!