Bergen County Boiler Repair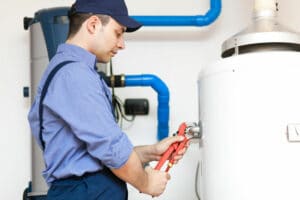 Are you dealing with a broken boiler and you just don't have time? Or maybe you're dreading asking, "How much does a boiler repair cost?" and hearing an answer that's way too high.
At BZ Dependable, we'll take care of your boiler for you so you don't have to worry anymore. We always work for competitive rates and we have financing options available so you can have the heat you need without stressing your bank account.
Instead of looking online for, "How to fix a leaking boiler," then trying to do the job yourself and making an even bigger mess, call us today. We'll have a boiler repair expert to your door ASAP to find the problem and repair it fast. Just call and say, "Fix my boiler!" and we'll be on our way!
Do I Need Boiler Repair Right Now?
We hear from a lot of people who aren't sure if they need a boiler repair in Bergen County right now. We don't blame you! Some boiler issues don't cause heating problems for a while and others seem like things you can live with. Here are boiler issues we can fix for you today!
Your boiler makes unusual sounds. This could mean a leak somewhere or that something has come loose in there.
Your boiler leaks. Even small leaks mean it's time for boiler repair, before that leak becomes a flood!
Your boiler heats unevenly. We'll figure out why and fix it fast!
You are cold at home even though the boiler seems to be working well. If your boiler isn't keeping you warm enough, you need a boiler plumber to find out why!
How to Get the Best Boiler Repair in Bergen County
Start your boiler repair by giving us a call at BZ Dependable. We'll set you up with a boiler professional in your area, make sure we find a time that's convenient for you, and make the appointment.
Your boiler repair plumber will get to you on time, make you feel comfortable right away, and make sure that they understand exactly why you've called for a boiler repair in Bergen County. With that knowledge, your professional will get right to work. He or she will test each part of your boiler until they find what isn't working.
Once we know what's broken, we know what we need to do to fix the problem. We'll talk to you about it so you and your family know what to expect. Then we'll get to work and keep working until your boiler is producing the cold air you need once again.
We'll test your boiler repair before we go and invite you to test it, too. If you have any questions, concerns, or you just aren't sure, we'll stay until you're completely happy with the work we've done on your boiler.
Don't let your boiler problems go because they will only get worse. Instead, contact BZ Dependable at the first sign you need a boiler repair. We'll be there ASAP.