At BZ Dependable Plumbing and Heating, we can solve any problems that you are having with your boiler. Just call us, say, "Fix my boiler!" or "I need a new boiler put in!" and we can show up fast to get it done. Before you know it, you'll have a reliable source of heat at your place in Paramus. Get in touch with us now to speak with our experts and make an appointment for service!
Need Boiler Repairs?
Do you know when to call for a boiler repair in Paramus? If you're seeing any of the problems listed below, it's time to call someone to fix your appliance. If you call us at the first sign of a problem, we can sometimes get it fixed before it becomes a much more major issue.
Look for: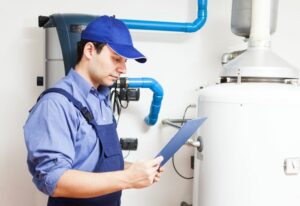 Problems with pressure
Water leaks in and around your boiler
Mineral deposits in, on, or around your boiler
Unusual sounds emanating from your boiler
Your boiler system seems to turn off and on randomly
Boiler Installations
When you need to have your current boiler replaced, reach out to our team. We'll connect you with an expert who can assist with the entire process from start to finish. If you need help choosing a boiler that will work best for your needs in Paramus, we go over all the options with you and recommend a trusted manufacturer. Our professionals can also get it ordered and delivered, and then we will take care of installing it and hooking it up to power.
Boiler Maintenance
During a boiler tune-up, we'll let you know if we find any problems that need to be addressed before winter comes. Our staff can examine the appliance, clean it out, and check on all the components. We'll get you on the calendar so those repairs can be completed before you need to use your boiler, and we will make sure it is back to working at maximum efficiency.
Boiler Service Professionals Serving Paramus
The experts on staff at BZ Dependable Plumbing and Heating are here to help whenever you need to have your property's boiler worked on. We offer repairs, installations, replacements, and maintenance for our customers in Paramus, and have a friendly and professional team. No matter what is going on or what time it is, we can come to your aid and make sure that your boiler is functioning and keeping you warm. Get in contact with us!